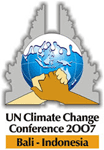 The United Nations Climate Change Conference started today and will go through December 14th in Bali, Indonesia. The conference will have representatives from over 180 countries that will start negotiations on a new international climate change agreement.
The United Nations Department of Public Information will be providing full coverage of the Conference, including webcasts of main events and press conferences in Bali, radio coverage, photos and News Center stories. In addition, for the first time, the UN is introducing an experiment in on-line reporting from Bali for the entire duration of the Climate Change Conference.
This is part of the UN efforts to lower the conference's carbon footprint and to emphasize the importance of this global issue by encouraging participants to view the conference online instead of flying in for the events.