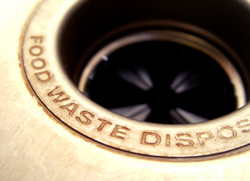 Just say no to the in-sink garbage disposal. That's right – Don't use that water wasting disposal any more. Instead conserve water by composting your kitchen waste.
In-sink garbage disposals use up lots of water & energy in the process of chewing up food into little bits & flushing it away. Plus, disposing of food this way diverts it to water waste management facilities and then out into the open ocean, where it disrupts the ecosystem.
According to TreeHugger…
"In-sink garbage disposer proponents claim that sending food waste down the drain decreases the amount of waste trucked to the landfill in large diesel-powered trucks. However, the conveyance of food waste through a pipe requires a lot of water and that water has to come from somewhere. According to a 2005 California Energy Commission report, 19% of California's electricity use, and 32% of its natural gas use is for pumping water and wastewater! So, not only is water a scarce resource that should be conserved, but pumping it requires a lot of energy and, in California at least, contributes a significant amount to global warming."
Green your kitchen by composting your waste instead of using the in-sink garbage disposal.