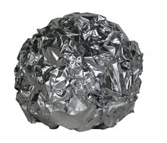 A lot of your favorite household products are recyclable. Products such as aluminum foil are often overlooked, but can be thrown in the recycling bin along with the cans, newspapers & glass.
According to the Aluminum Association, Americans toss out enough aluminum every 3 months to rebuild our entire commercial air fleet.
So, the next time you use aluminum foil…don't forget to toss it into the recycling bin!