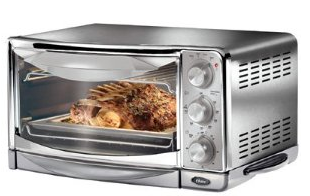 If you have the option, use a toaster oven instead of a conventional oven. Why? Because you'll save on time and use far less energy.
Tests have shown that a well-insulated toaster oven, with plenty of room for air to circulate around it, consumes half the energy than a conventional oven does. Plus, using a toaster oven will keep your kitchen cooler, meaning less work for your AC and even more energy savings.
But what can one cook in a toaster oven besides toast & bagels?
Toaster ovens are great for casseroles, cheesy nachos, small pizzas and my all-time fave the grilled cheese sandwich.
So get creative & be eco-friendly in your kitchen this summer with the toaster oven.