There's nothing better than a fresh box of brand new crayons… Runner up is a brand new up-cycled crayon. What the heck is an up-cycled crayon?
Supplies Needed:
Old Crayons
Aluminum Cans
Wooden sticks or dowel rods
Candy mold or ice cube trays
Large Pan
Step 1 –
Making melting pots. Use aluminum cans to melt your crayons in. The first thing to do is cut off the tops. You need enough so that they are packed tightly in the pot and will not fall over. But watch out! The top will be sharp.

Step 2 –
Sort the crayons. You may want to remove the wrappers as well. We didn't, so we had to fish them out of the melted wax.

Step 3 –
Create a water bath. Place the aluminum cans full of crayons into an old pan that has about an inch of water in it. If the cans do not have very much in them, they will float. This is a bit of a pain but the crayons inside will still melt. The wax will get very hot & never heat wax directly on the stove.

Step 4 –
Waiting. The crayons will melt at different rates, the yellow and brown melted first. Some of the inexpensive crayons never melted. You just have to fish them out or work around them.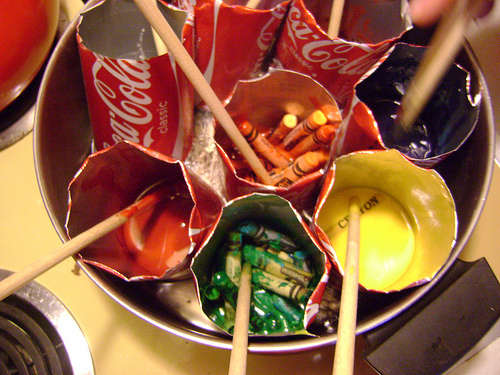 Step 5 –
Ready to pour. Before you pour the new crayons you need to remove most of the wrappers.

Step 6 –
Time to pour. Lay out some paper and put your mold on top of the paper. Pinch a pour spout into the top of the can, use your dowel rod or stir stick to hold back any clumps of unmelted crayons. Carefully pour into the candy molds. The cans are not hot at all, but the wax is.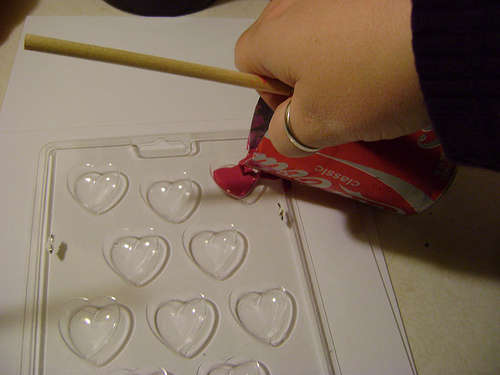 Step 7 –
The wax drips and things can get pretty mess, so be make sure you covered your work space or you will have a huge mess to clean up.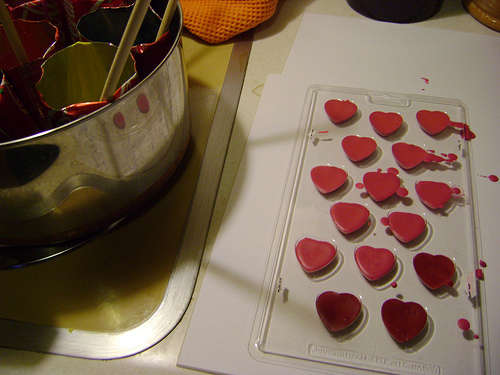 Step 8 –
If you need the molds fast to do you next batch put them in the freezer for about 5 minutes. The new crayons will pop right out.

Step 9 –
All Done! Let's color!

A special thanks to SomArtMama & Instructables for sharing their up-cycling crafts with us!