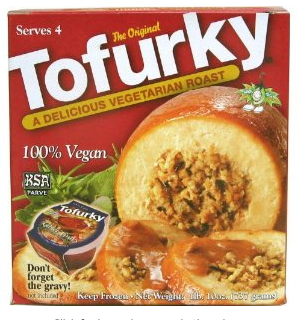 It's Turkey Day today!
Or for all you vegetarians it's Tofurky Day!
Holidays are now easier and more delicious for vegetarians, vegans, and turkeys everywhere! This Stuffed Tofurky Roast is a pre-cooked vegetarian feast designed to be the delicious centerpiece of your holiday table or everyday meal. Made from a revolutionary tofu-wheat protein blend, Tofurky is known for its incredible, turkey-like texture and flavor. Filled with delicious stuffing made of bread crumbs, brown and wild rice, onions, celery, garlic, herbs, and spices. You'll now have a high-protein entree of your own to place in the middle of your holiday dinner table!
Gobble Gobble!