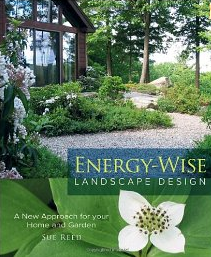 Looking to shrink your energy footprint?
Yeah, who isn't!
Well, Sue Reed helps you do just that with her book 'Energy-Wise Landscape Design: A New Approach for Your Home and Garden'.
In her book, she presents hundreds of practical ways everyone can save time, money and energy by designing their landscapes and gardens to be more energy-efficient and environmentally friendly.
You'll learn how to reduce your home's heating & cooling costs, minimize fuel used in landscape construction, maintenance and everyday use, plus learn how to choose products and materials with lower embedded energy costs.
Sue combines general guidelines with tips, techniques and actions to help anyone make a positive difference without a major investment or change in lifestyle.