Even your cuddle pooches can go green and sport eco friendly fashion. The crew over at EarthDog manufactures hemp collars, leashes, harnesses, beds and chew toys for dogs. Their dog products are all handmade in the USA, and are inspired by their own dogs – 14 in all.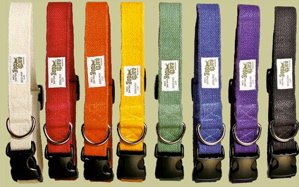 EarthDog uses asian-grown 100% hemp canvas & webbing and hemp rope from Romania. They dye their hemp with low impact, non-toxic procion dyes.
EarthDog is also a carbon neutral company. They have offset their carbon emissions for the year by purchasing a business Terrapass, which reduces carbon dioxide emissions by funding clean energy and efficiency projects.