Switching to LED (light emitting diodes) light bulbs is one of the easiest ways to lessen your carbon footprint & save big bucks on your electricity bill.
SuperBrightLEDs.com is a St. Louis, Missouri based online company that offers all sorts of LED bulbs for the home, office or vehicle.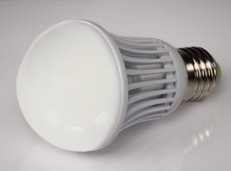 One of the most popular bulbs SuperBrightLEDs.com offers is the 9 watt Globe LED Bulb, which is available in both warm white (like a traditional bulb) or cool white (white with a tint of blue that actually puts off more light). The light output is comparable to 55 – 60 watt incandescent bulb, but consumes just 9 Watts of power.
Priced as affordable as possible, SuperBrightLEDs.com extends significant savings to their customers. Plus their bulb comes with a standard 2 year warranty, however the bulb should last way longer than that.
Top 3 Reasons to Switch to LED Light Bulbs:
1- LEDs are much more efficient than incandescent lighting.
2- LEDs don't get as hot as traditional lights, lowering the risk of fire & burns.
3- LEDs last way longer than conventional incandescent lighting.