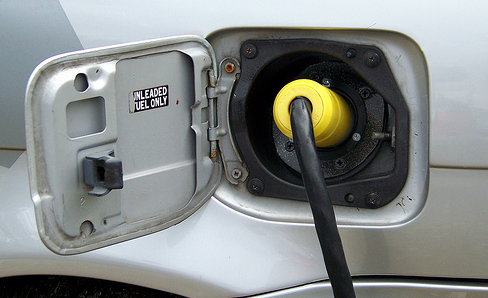 Ever wonder what the variation is between different alternative fuel cars like a plug in hybrid, a flex fuel or an electric car?
Here's a breakdown of all the different types of green vehicles that are currently available and also in development.
Hybrids
Hybrids combine two or more different propulsion systems, typically a gasoline engine and one or more electric drive motors. Most hybrids on the road today compliment their gas engines by charging a battery when breaking. Engines running on diesel or other alternative fuels can also be used in hybrids. A hybrid drive is fully scalable, which means the drive can be used to power everything from small commuter cars to large buses and even locomotives. Hybrids get more MPG or miles per gallon than most non-hybrids, and usually have very low tailpipe emissions.
Plug In Hybrids
Plug in hybrids get high MPG, cover many miles on battery power alone, and include a gasoline engine to provide greater range as needed. Plug in hybrids are mostly recharged from the grid, but some plug-in hybrid models can generate electricity when using them.
Electric Cars
Electric cars use one or more electric drive motors, powered by batteries, for zero-emission motoring. Electric cars are recharged by plugging into the grid, either at home, or with special electric vehicle charging stations. Car manufacturers are actively developing a new generation of electric cars using technologies and lessons learned from electric vehicles developed in the 1990s. Electric cars are extremely efficient and run for pennies per mile, much cheaper than any other alternative fuel.
Biodiesel
Biodiesel is a renewable alternative fuel made from various sources ranging from waste vegetable oil to soybeans. Biodiesel can be used in most diesel powered cars without modification. Biodiesel is a cleaner fuel than standard petroleum diesel.
Ethanol
Ethanol is an alcohol-based alternative fuel made from biomass. As a popular alternative fuel, ethanol is typically used in the form of E85 to power flex fuel cars outfitted specifically to run on this blend of 85% ethanol and 15% gasoline. There are  more than 30 flex fuel vehicle models that have been designed to run on two fuels from the same tank. Most ethanol today is produced from corn or sugar cane, although this will change as cheaper cellulosic ethanol made from fast growing woody grasses and other biomass becomes a reality.
Hydrogen Cars & Hydrogen Fuel Cells
Hydrogen is perhaps the cleanest of all alternative fuels, burning with nearly zero emissions in an internal combustion engine and with emissions of only water vapor and heat in an electro-mechanical fuel cell. Hydrogen vehicles are being developed in many forms by most major car manufacturers.
Air Powered Cars
Air powered cars are relatively new to the green car scene. Compressed air is currently being explored as a viable 'alternative fuel' to efficiently power car engines with little or no environmental impact.
Natural Gas
Natural gas, the cleanest-burning fossil fuel, is being used by an increasing number of medium- and heavy-duty commercial vehicles. Natural gas is stored and used in its liquefied or compressed states. It is most commonly abbreviated as LNG for Liquefied Natural Gas, and CNG for Compressed Natural Gas. While a variety of light-duty natural gas cars were once available, the only factory-produced natural gas car made today in the U.S. is Honda's Civic GX. Other car models may be developed and sold in the United States as additional focus is placed on natural gas as a fuel source for alternative fuel vehicles.
Via: GreenCar