New Year's eve is this Friday! Bring in the new year with this eco-friendly upcycled soda can noisemaker. It's a simple DIY project that can even be done with the kids.

Supplies Needed:
Fun image printed on lightweight or medium weight photo paper.
Empty pull-top, 12 oz., aluminum soda can.
Wood dowel, 1/4″ diameter, about 18″ long (or something similar)
Dried beans, pebbles, dried pasta or something similar.
Medium cardboard, like tag board.
Decorating supplies like yarn, sequins, paint, glitter, etc.
Double stick tape or spray adhesive.
Hot glue gun.
Tin snips (metal-cutting scissors).
Scissors or paper cutter.
Hole punch (1/4″ hole).
Fine-tooth wood saw for cutting the dowel.
Let's Get Started:
Step 1:
Cut a roughly 1″ hole in the center of the top of the can with tin snips.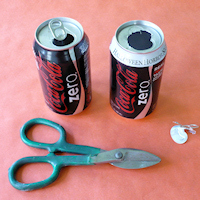 Step 2:
Measure the inset top of the can (ours was 1 7/8″ in diameter) and cut a cardboard circle that fits. Punch a 1/4″ hole in the center of the cardboard circle.

Step 3:
Cut the dowel to about 18″ long with the saw.

Step 4:
Shoot a large glob of hot glue down into the center of the bottom of the can. Working fast, insert the dowel and stick it in the glue as close to the center as possible. Hold it until the glue hardens.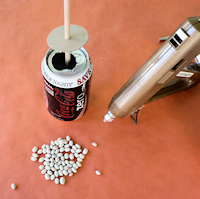 Step 5:
Drop in a small handful of dried beans.

Step 6:
Put the dowel through the hole in the cardboard circle. Apply hot glue around the inset top of the can and press the cardboard circle onto it until the glue hardens.

Step 7:
Paint the can and dowel a fun color.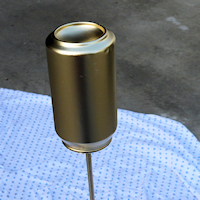 Step 8:
Print & trim your image. Adhere it around the can with double stick tape. Be sure the top of the image is facing the right way and that the dowel is at the bottom.

Step 9:
Let's decorate! Get creative here. You can use yarn and make some fringe or a pom-pom. Find odds and ends around the house to glue on like sequin, small buttons, glitter, etc.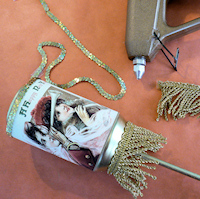 Step 10:
Party Time!
A special thanks to the folks over at Vintage Image Craft for sharing their eco-crafts with us!