Easter is almost here – Sunday, April 4th!
Instead of buying brand new Easter baskets for all your colored eggs, try making your own eco-friendly baskets. Here are 3 super Green homemade Easter basket ideas using items around your house & kitchen.
Materials You Will Need: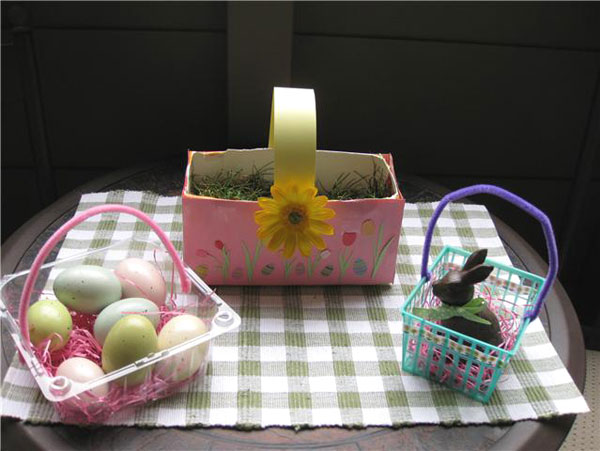 Pipe cleaners
Berry baskets
Plastic clamshell container
Tape
Glue
Scissors
Stapler
Stickers
Ribbon
Silk or real flowers
Juice or milk carton
Colored paper
Berry Easter Basket
Use a berry basket, loop some ribbon through the slots, and put a pipe cleaner through the sides as a handle. This petite basket makes a great Easter party favor or teacher gift.

Clamshell Easter Basket
Use a plastic container that produce or baked goods are packaged in at the grocery store, and simply punched one hole on each side of the clamshell, then loop a pipe cleaner through the holes to make the handle. You can also decorate it with paint, stickers, or really anything.

Carton Easter Basket
1. Another basket idea is to use an empty juice or milk carton — rinse out and air dry.
2. Next, cut out the side that has the spout.


3. Take your colored paper and measure it against the carton, tracing out each side, then covering each side with the colored paper, using either tape or glue.


4. Take another piece of colored paper and cut out a long piece about 2 inches wide for your handle. Staple it to the carton. You can use flowers or stickers to cover the staple.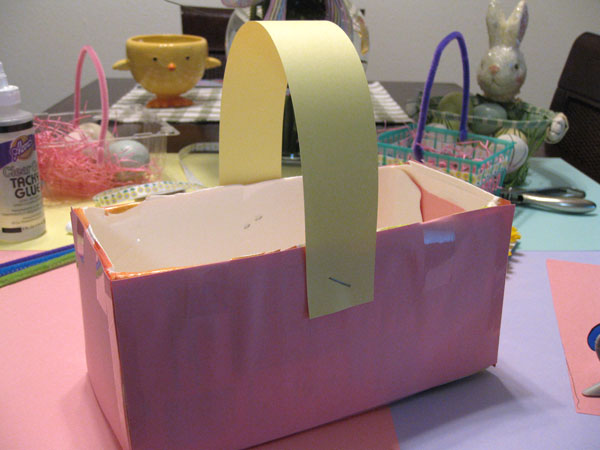 5. Decorate your basket with stickers, let your child color or paint it, put flowers on it. Get creative – options are endless!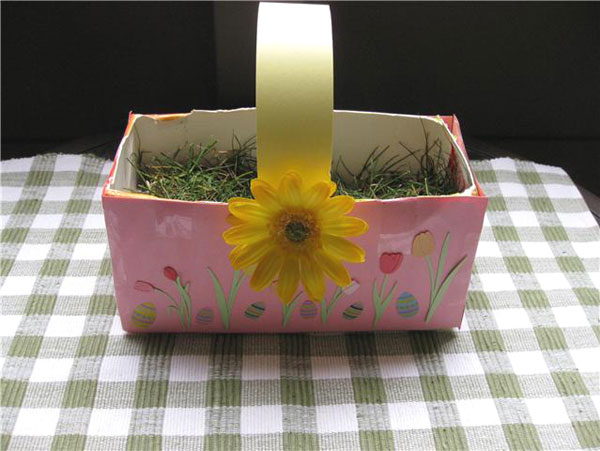 A special thanks to Petite Planet for sharing their Easter eco-crafts with us!