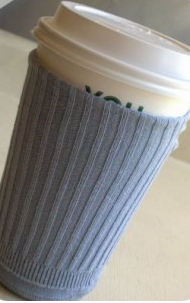 For all you coffee and tea lovers that don't bring their own travel mug when getting their daily java, this one's for you.
It maybe a hassle or you just forget, well just because you're stuck with the disposable paper cup doesn't mean you have to be stuck with the cardboard sleeve too. It's easy to toss your DIY cup cozy in your purse or computer bag. There's no washing or big clunky cup to deal with.
Supplies Needed:
Old sweater
Scissors
Sewing machine
Pins
Let's Get Started:
Step 1:
Cut about six inches or less of a sleeve off an old sweater.
Step 2:
Flip the material inside out and pin a slightly curved line just below the recently cut line.
Step 3:
Sew along the pined curved line and cut off the extra fabric and flip right side out.