Shoe boxes have always been an item I tend to reuse. Something about the size and shape is just perfect for storing so many things besides shoes.
Here are my top 5 ways to reuse shoe boxes: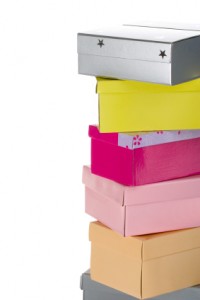 1- Photo File Box: Decorate the outside of your box with paints, fabric or gift wrap for the perfect size box to store your photos.
2- Drawer Divider: Shoe boxes are just the right size to line up your undies, socks, and other unmentionables to give your dresser drawer an organized look.
3- Garage / Workshop Organizers: Store tools, rags, rolls of packing tape, etc. neatly on the shelves in your garage, basement or workshop.
4- Toy Box: Store all those little toys like Matchbox cars, plastic animals, Barbie accessories, etc. in their own little storage box.
5- Mail Organizer: Shoe boxes work great lengthwise for business envelopes. Create some little tabs to separate bills & personal mail for ultimate organization. Plus you can decorate the outside of the box to match any decor.
Next time you buy a new pair of shoes, think twice and get creative before throwing out that perfectly good shoe box.