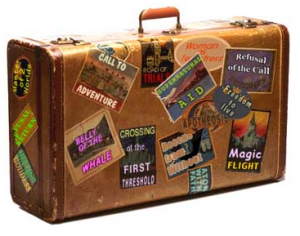 Traveling this holiday season? Consider these top 5 easy, eco-effective travel tips:
1- Pack Lightly.
The more weight you carry on, the more fuel the train, plane, automobile, or boat will use. So don't pack unnecessarily stuff. If you are traveling with companions only bring one of something that can be shared, like toothpaste & shaving cream. Also, find out if the hotel or host has a hairdryer or other appliances, to avoid packing them. And remember, shoes & boots add major weight to a bag, so try to keep extras to a minimum.
2- Take The Bus Or Train.
According to the UCS, a couple who go by bus instead of flying coach will reduce their carbon dioxde emissions by 55 to 75%, depending upon the distance traveled. Even if 2 travelers use a fuel-efficient hybrid car, a bus trip will cut their trip emissions in half.
UCS researchers report that a train emits 60% less carbon per passenger mile than a car with a single occupant. Compared to a 500-mile trip on a small jet plane, a train emits 30% less carbon.
3- Choose A Direct Flight.
If you are flying this holiday try to find a non-stop flight. Not only will it save you time, it is a greener choice.
4- Go Before You Fly.
Use the airport lavatory, not the one on the plane, since, believe it or not, the fuel used for every mile-high flush could run a car for six miles.
5- Look For Green Hotels.
Look around for eco-friendly lodging that has efficient lighting and water fixtures, alternative fuel vehicles, and that recycles.