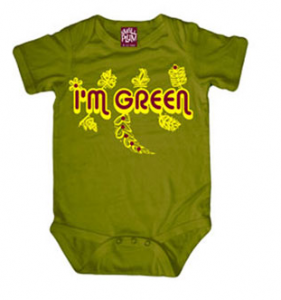 Parents always want the best for their children. By using eco-friendly products for your babies it is a win-win situation; you are protecting our planet as well as protecting your little one from awful chemicals & toxins. The following are the top five eco-friendly products for your Green baby.
Top 5 Eco-Friendly baby Products:
1- Organic Baby Food – Give your baby the most natural food out there with either homemade baby food or store bought organic baby food.
2- BPA Free Pacifiers, Bottles, Teethers – Keep nasty chemicals away from your baby by using plastic items that are BPA free.
3- Bamboo or Soy Onesies – Protect your little ones delicate skin with soft soy or bamboo clothing.
4- Eco-Firendly Diapers – Save our landfills by using eco-friendly diapers; either cloth, biodegradable, or flushable.
5- Sustainable Wood Furniture – Preserve our forests by buying cribs, rocking chairs, and other furniture from sustainable wood.