The holiday season is a great time for fresh starts and new traditions. If you haven't started living a green lifestyle, now's your opportunity. Here are the top five tips for creating a green Holiday Celebration.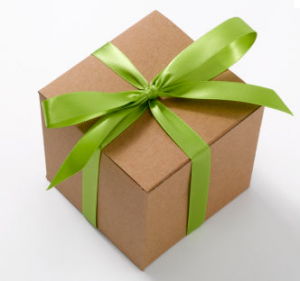 Eco Holiday Tips:
Cards –Consider switching to emailed holiday cards to reduce your landfill waste. If you would like to send printed paper cards consider a card which is made from 100% post consumer recycled paper and is printed with soy inks.
Trees – Fake trees are reusable but are made from petroleum-derived sources and often shipped from abroad. Real trees, for their part, are typically sprayed with lots of pesticides. Organic Christmas trees are tough to come by. If you opt for a real tree, be sure to bring it to a local recycling center, where it can be chipped for mulch or used whole to stabilize wetlands. A better Christmas tree choice may be to purchase a live, potted tree, which can be planted outside after the holidays. Evergreen varieties such as pine, spruce, and fir work well in many regions.
Lights –Switching to LEDs is 90% more efficient than incandescent lighting. LEDs don't get as hot as traditional lights, lowering the risk of fire, and if one bulb goes out, the rest of the string still works. They last longer, too.
Decorations – From bamboo placemats to homemade napkin rings, make a commitment to go green by decorating with an eco-friendly touch. Making Christmas decorations at home is another way to get the whole family involved in a creative project.
Gift Wrapping – Get creative with your gift wrapping. Make the wrapping of the gift part of the gift, something that can be used for another purpose afterwards, like a scarf, reusable bag or even a tablecloth.
Happy Holidays!