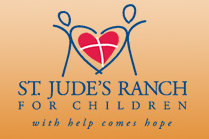 St. Jude's Ranch for Children has an awesome greeting card recycling program that is a great way to reuse & recycle while helping the amazing kids at the Ranch campuses.
All you have to do is mail your used thank you notes, greeting & holiday cards to St. Jude's Ranch for Children.
When St. Jude's Ranch for Children receives donor cards, the children participate in making the new cards by removing the front of the card from it's back or inside portion. The donor card front is then centered on either an ivory or white backing resulting in a 'new' card with a recycled front panel. The benefits are two-fold: customers receive "green" holiday cards for use and the children receive payment for their work and learn the benefits and importance of "going green".
St. Jude's Ranch for Children then packages the cards in packs of 10 with white envelopes & sells them online or by phone (1-877-977-SJRC) for $10 a pack.
You can mail your card donations to:
St. Jude's Ranch for Children
Recycled Card Program
100 St. Jude's Street
Boulder City, NV 89005