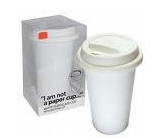 For all you coffee drinkers on the go…this one is for you.
I am not a paper cup is a fun & funky reusable cup. Double walled porcelain cup with a silicone top is dishwasher safe and measures 3.5″ diameter & 6″ tall. Makes a great gift and looks right at home on your desk or car cup holder.
Save the environment…use this cup. Order now!