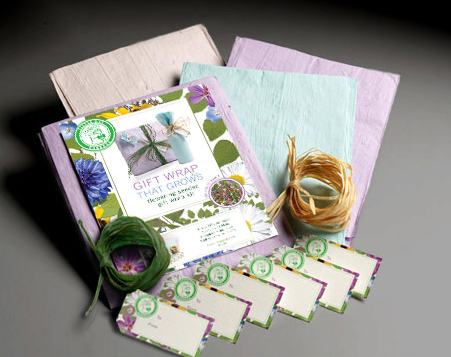 Holidays, birthdays, Mother's day, bridal showers, and any other gift giving occasion can add to curbside trash, sometimes as much as 25% more. Instead of throwing out your used gift wrap, what if you could plant it and grow real flowers.
Well, Little Kay Gardens has done just that. They have created pretty gift wrap paper that is made from 100% recycled newspapers and is embedded with wildflower seeds. So, after the recipient opens their gift, they can plant the paper and grow flowers!
In each pack you get 4 large 24″ x 36″ sheets of paper, 2 colors of raffia ribbon, plus 6 gift cards with instructions. You can use the paper as wrap for up to 8 shirt boxes or as tissue paper in a gift bag. The paper includes wildflower seeds for Corn Poppy, Red Coreopsis, Plain Coreopsis, Black-eyed Susan, Baby Snapdragon and more.
Check out their video for more details:
Planting Instructions:
1- Loosen topsoil of garden or planter to a depth of 8 to 10 cm (3 to 4 inches)
2- Place the paper down, cut to size if necessary
3- Sprinkle a very light layer of topsoil or peat moss over the paper to hold firmly against wind. Don't cover with more than 1/8 of soil
4- When the paper is in place, soak with a fine mist until the paper is saturated and appears to melt into the topsoil
5- Keep well watered – water at least once a day until plants are established 3 to 4 inches high
NOTE: Plants can be thinned out when established and transplanted to other garden areas. Early growth resembles weeds, do not weed area for first 4-8 weeks
Make the world greener – one gift at a time with Little Kay Gardens!