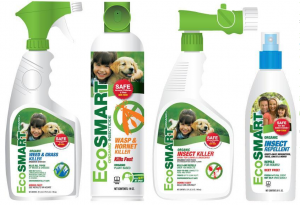 Do you have unwanted guests in your garden or even in your home?
If you do, I'm sure you want to get rid of them fast and for good, but want something that is environmentally safe. Many will ask if something like that even exist? A safe pesticide?
Discover EcoSMART, the world leader in safe pesticide solutions, making the only 100% safe insecticide that is proven to work.
EcoSMART was the first company to apply modern science to essential plant oils creating the first 100% safe pesticides. Their products are based on the natural defenses that plants and trees have used for their self protection against insects and pathogens for millenia – essential oils.
University research has shown that these oils attack octopamine neuro-receptors. Octopamine is a key insect neurotransmitter that regulates insect movement, behavior and metabolism. The blockage of the receptor activity prevents the transmission of the octopamine signals, which delivers quick knock down, kill and repellency against a wide variety of household pests such as cockroaches, ants, dust mites, flies, wasps, spiders, crickets, and fleas. Their blends of natural plant oils are every bit as effective as synthetic chemicals, killing bugs fast without any toxins or harmful residues.
Since EcoSMART's proprietary botanical oil blends attack attributes that are specific only to pests, they have no effect on people, pets or the environment. The primary active ingredients in EcoSMART products are approved as Direct Food Additives or classified as GRAS (Generally Recognized As Safe) by the U.S. Food & Drug Administration. These oils are commonly used to add flavor and aroma to many cosmetic, beverage and food products, including cake, candy, sweetener, gum, soft drinks, and lipstick. Our products have no adverse effect on mammals, birds, and fish and also will not contaminate water sources.
Be smart. Be EcoSMART!
Buy Now!