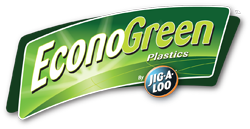 Who ever thought plastic trash bags could be eco-friendly? I never did, until I heard of EconoGreen Plastics.
EconoGreen Plastics offers a complete range of bags and drop cloths made from 100% recycled plastics that are oxodegradable and recyclable. Plus, they are as strong, tough and flexible as standard plastic bags and they're priced in the same range. So whether you're eco-conscious or cost-conscious, there really is one choice. Greener, stronger, affordable – that's what EconoGreen Plastics is all about.
EconoGreen Plastics products are:
Made from 100% recycled plastics
Oxodegradable when exposed to oxygen
100% recyclable
Priced at an equivalent or lower price than comparable plastic bags
As strong as traditional plastic bags
Made in North America
EconoGreen Plastics products are available at all Home Depot stores in the US or online.