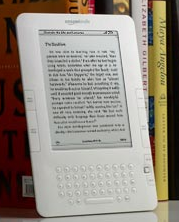 Love to read, but hate going to the library to check out books? Then say "Hello" to the Amazon Kindle!
The Amazon Kindle is the ultimate electronic reader. It is so simple to use with no setup, no cables and no computer required. The Kindle is completely wireless and ready to use right out of the box. It has FREE 3G wireless letting you download books right from your Kindle, anytime, anywhere; with no monthly fees, service plans, or hunting for Wi-Fi hotspots.
The Kindle is slim & lightweight, at 10.2 ounces. It is lighter than a typical paperback and as thin as most magazines. It also has a long battery life, allowing you to read for days without recharging.
The Kindle reads like real paper, with 16 shades of gray for clear text and even crisper images. Plus the Kindle's screen reflects light like ordinary paper and uses no backlighting, eliminating the glare associated with other electronic displays. As a result, the Kindle can be read as easily in bright sunlight as in your living room.

Other Kindle Features:
Adjustable Text Size
Read-to-Me Feature
Bookmarks and Annotations
Full Image Zoom
Personal Document Service Via Whispernet
Built-in Dictionary with Instant Lookup
Wireless Access to Wikipedia
Basic Web Browser
PDF Document Conversion
Listen to Music & Podcasts
Automatic Library Backup: Re-download Your Books for Free