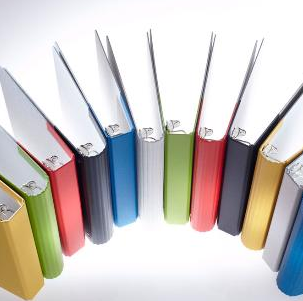 As the summer starts winding down and school is kicking off again; it's time to go supply shopping and get organized.
There are lots of choices these days for folders, binders and labels but not all are eco-friendly and offer great design like Des Moines, Iowa's Naked Binder.
Naked Binder started back in 2008 designing their 3-ring binders to look so good you won't want to get rid of them.  They have everything you might need to impress a client, store your taxes, organize your class notes or decorate your office / dorm room, plus they are 100% sustainable.
Naked Binder Eco-Features:
Recycled: We use only board that is 100% post consumer waste and 100% recycled.
FSC Certified: Nearly all of our materials are FSC certified.
Stronger: Our binders have been tested to 250,000 flexes without fail, making them perhaps the strongest 3-ring binder in the world.
No Plastics: Naked Binder does not use plastics, vinyl or other toxins in manufacturing or shipping so everything is easily returned to the recycling stream. This takes pressure off of your waste management system, landfills and reduces the need for new production of virgin resources.
Recyclable: Our binders are 100% recyclable.
Innovating: We constantly test new materials to craft the most environmentally safe products that last longer, work better and look great.
Local: All of our products are made in the USA, minimizing world wide travel to get to you. Our manufacturing plant is in Des Moines IA.
Community: Naked Binder works and donates to two causes, education and wilderness preservation. Over the years, we have donated thousands of binders to kids who need them across the country. We have discounts for teachers and schools and have worked with organizations who are working to increase access to educational resources. As a member of 1% for the Planet, Naked Binder also works with and donates to organizations striving to preserve wilderness and open spaces.