I love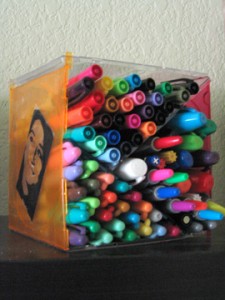 craft projects! Especially the ones that allow you to recycle & reuse what some would consider to be trash.
Checkout this unique, super functional pen holder made out of recycled jewel cases.
You will need the following:
4 slim jewel cases
clear packing tape
scissors
craft knife
safety goggles / glasses
Step 1
Open 2 jewel cases and face them toward each other to form a cube (w/no top or bottom yet). Tape the corners.
Step 2
Separate hinged sides of 3rd jewel case. Snap off hinges.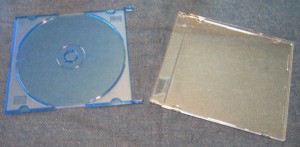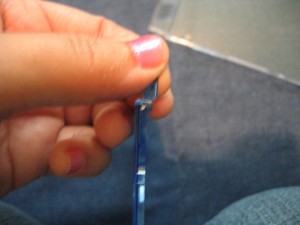 Step 3
Tape the side with broken hinges to the bottom of the cube.
Step 4
Separate the 4th jewel case and break the hinges off of it as well.
Step 5
Create 1st divider. Insert side with broken hinges into the cube and tape in place.
Step 6
Trim one of the front cover sides by scoring along the line that it is already there. Butt the knife against the line and place medium pressure. Score only once. Snap off at scored line. Holding each side, bend back and forth until plastic breaks off. (This may take a 2nd try luckily you should have a spare cover). You will get it right by the second try, it's really easy.
WARNING – Watch out for flying pieces of plastic. Safety goggles or glasses should probably be worn.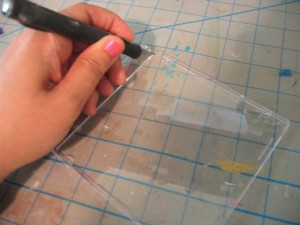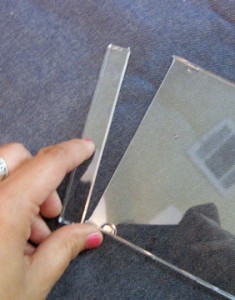 Step 7
Create 2nd divider. Insert the trimmed piece into the cube and tape in place.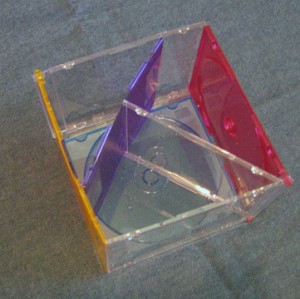 Step 8
You can decorate the outside with fun images if you wish or just with all your pen, pencils & sharpies.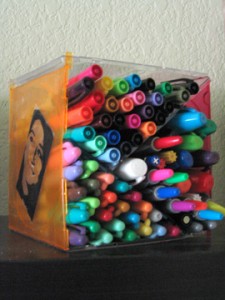 Thanks to Amy for sharing her awesome crafting ideas at Craft Chi!