I love all those natural pampering bath products, like soaps, body scrubs, lotions, oils… They smell like heaven in the shower when I use them and they make my skin feel great, but they are all so expensive.
So I decided to see if I could create my own.
After a little experimental trial & error, I finally came up with two DIY exfoliating body scrubs that are similar to store bought products, but are from ingredients on hand in most kitchens.
DIY Sugar Body Scrub
Ingredients:
1/2 Cup White Sugar
1/2 Cup Brown Sugar
3/4 Cup (or so) Olive Oil
1 Tablespoon Vanilla or Almond Extract
Step 1: Add the 2 sugars to a containter, mixing until well combined.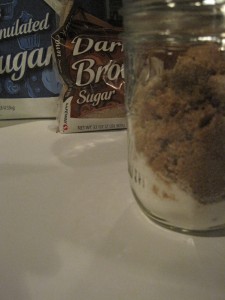 Step 2: Pour in most of the olive oil. Let it bubble down to the bottom, then pour in a little more. Mix with a spoon, if needed, until you have a nice sticky scrub.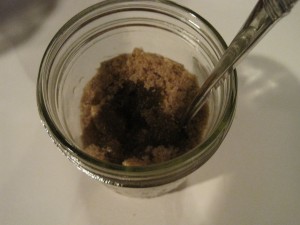 Step 4: Add a cute ribbon & this indulging exfoliating scrub makes the perfect gift.

DIY Citrus Salt Body Scrub
Ingredients:
3/4 Cup Sea Salt
1/2 Cup Olive Oil
2 Slices of Lemon
2 Slices of Orange
Step 1: Add olive oil & sea salt to blender.

Step 3: Add fruit with the peel to the blender & mix.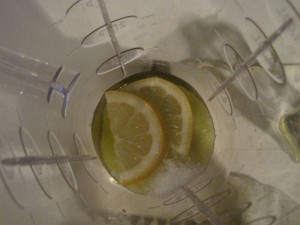 Step 4: Once completely mixed, so the fruit peel is itty bitty, transfer scrub mixture to a container.

Step 5: Add a cute ribbon & this summery exfoliating scrub also makes the perfect gift.