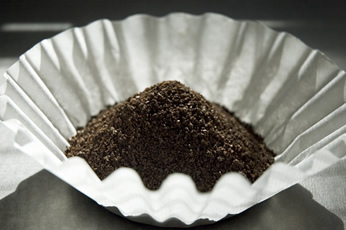 Instead of tossing out those old used coffee grounds put them to good use to make yourself beautiful. Coffee grounds can actually help improve the quality of your skin by:
Exfoliating
Preventing and diminishing fine lines and wrinkles
Balancing pH
Controlling blemishes
Pulling toxins from the skin
Moisturizing
Here are a few different beauty treatments that you can do at home with your old used coffee grounds to help enhance your skin & hair.
Face Mask – Mix a quarter-cup of used coffee grounds with an egg white for an at home skin tightening mask.
Exfoliant – Massage your face with coffee grounds for an exfoliating scrub that will leave you with a radiant glow.
Cellulite Treatment – To combat cellulite, mix a tablespoon of olive oil with a quarter-cup of moist, warm coffee grounds and apply to the troublesome areas of your body. Wrap the areas tightly with plastic wrap, leave on for a few minutes, and then remove and shower as normal. It's recommended that this be done a couple times a week for best results.
Hair Color Enhancer – Coffee grounds can add shine to brunette and black hair, improve scalp health, and prevent dandruff. In the shower, rub some used coffee grounds throughout your hair in between shampooing and conditioning. Make sure to distribute the grounds thoroughly and then rinse. Unless you want darker hair, you'll want to avoid this one, blondes!