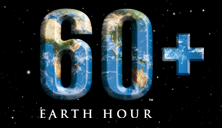 Tomorrow is Earth Hour!
Y'all ready to turn off the lights (TV too) at 8:30pm for an hour?
What is Earth Hour?
Earth Hour began in Sydney in 2007 as a global climate change initiative, calling individuals and businesses around the world, to switch off their lights for one hour.
In 2007 – The inaugural Earth Hour was held in Sydney Australia where 2.2 million Sydneysiders and 2,100 businesses participate in the event.
In 2008 – Earth Hour was held in 371 cities and towns in more than 35 countries globally.
In 2009 – Earth Hour was held in more than 4,000 cities and towns across 88 countries.
In 2010 – Earth Hour was held in a record 128 countries and territories.  Iconic buildings and landmarks from Asia Pacific to Europe and Africa to the Americas stood in darkness.