Travel this holiday season in up-cycled style with these crafty containers turned into luggage tags by Tiffany Threadgould.
Tiffany took her all too many plastic yogurt containers and gave them a second life with a little bit of cutting and hole punching. She used 1 colorful container and 1 clear container to make theses eco-friendly tags.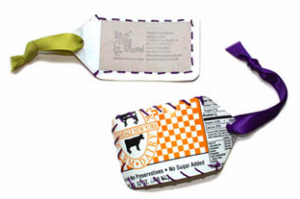 You'll need the following:
1 colored plastic container
1 clear plastic container or flat deli lid
pen
scissors
thumb tack
scrap piece of cardboard
download PDF template
hole punch
plastic lanyard or needle and embroidery floss
ribbon
How to make a Yogurt Tub Luggage Tag
1- Cut into the containers and create one flat piece each from the clear container and colored container. Print and cut out the template or follow the measurements listed.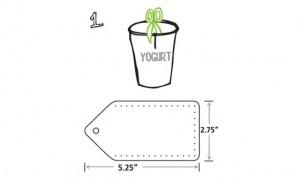 2- Flatten out plastic pieces and lay template on top. Trace around template. Then, cut around the traced line. Repeat for other plastic piece.
3- Place scrap piece of cardboard under clear plastic piece. Then lay template on top. Use a thumbtack to poke holes around the edge. To widen holes, wiggle the tack around once punched.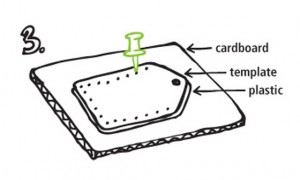 4- Use the hole punch to punch a hole in the top.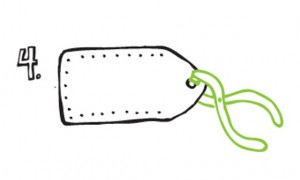 5- Lay clear plastic piece on top of colored piece. Repeat steps 3 and 4 using the clear piece as your template to create the holes. With both plastic pieces stacked on top of each other, take plastic lanyard or needle and embroidery floss and thread through the first hole. Secure with a double knot. Thread in and out of all of the holes around the edge. To finish off, tie another double knot.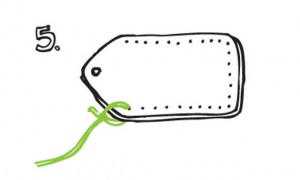 6- Insert a business card or piece of paper that's 2″ wide by 3.5″ tall with your name and contact information.
7- Tie off with a ribbon. Attach to your suitcase and your newly made luggage tag is ready for take off!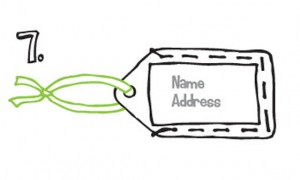 Illustrations Courtesy of Tiffany Threadgould