This Valentine's Day instead of buying fresh cut flowers that only last a few days and are totally full of pesticide toxins  Make your sweetie flowers that are eco-friendly because they are made from some extra scrap fabric and will last for years. Here is a great how-to guide by Becky Striepe over at Green Upgrader.
What you'll need:
A few pieces of long fabric scraps
floral wire
pinking shears
felt
needle
thread
fabric glue
A couple of vintage buttons
How to make it:
To get started, use your pinking shears to cut your scraps into strips that are about an inch wide and four to eight inches long. There are two ways you can put these little guys together, depending on the size of your scraps. Either fold the scraps in half and layer them loop-side out, or cut longer scraps, and fold the ends into the center. Either way, you end up with a similar result which you'll secure into place with a straight pin:
I opted to bunch some tulle scraps that I had behind the first flower and use the same tulle gathered on top of the second one. I think it makes it feel a little more romantic, but it's totally optional.
Now sew a few stitches through the center, being careful to trap all of the fabric. Once everything is secure, you can remove the pin and sew a button onto the front!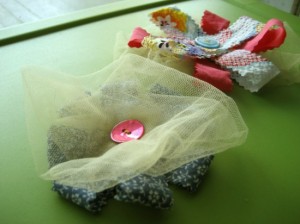 You're almost done! Grab that piece of floral wire, fold it in half off center, and make a 1 loop on each of the ends. Now, cut yourself a couple of small pieces of felt, maybe around 1.5 square, and apply a generous amount of fabric glue. Your goal here is to sandwich the loop of wire between the back of the flower and the felt. Once the glue dries, it will also make your flower's head a little more sturdy without adding too much weight: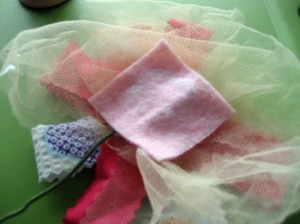 The glue will probably need to set overnight to dry completely. Once it's dry, you have a couple of options! I dug out a vintage wooden spool of thread and used that as my vase. You could also put your bouquet into a small pot or vintage teacup full of rocks or marbles. If you want to treat it more like a traditional bouquet, you can wrap the base in some pretty ribbon, and secure it with a decorative straight pin!
A BIG thanks to Becky Striepe over at Green Upgrader for sharing her awesome eco-friendly flowers with us!