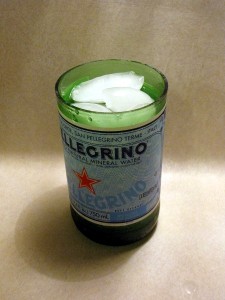 Here is a really cool craft project that recycles old glass bottles from beer or soda and turns them into new trendy drinking glasses.
The project isn't that difficult, but it does requires some precision & a few tools you most likely don't have around the house.
Tools
Glass cutting wheel
Bottle cutting jig
Small butane torch
"Lazy Susan" or other rotating platform
Scrap of plate glass at least 8×8″
Materials
A suitable glass bottle to cut
400 grit silicon carbide wet/dry sandpaper
Bulk silicon carbide grit (at least 80 mesh)
Tap water
Oil for glass cutting wheel
Step 1: Select a bottle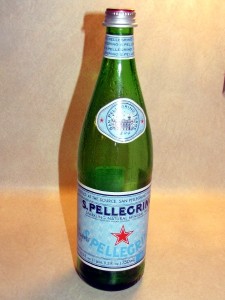 Step 2: Score the bottle
After choosing your bottle, the next step is to score the glass for cutting. This is where a bottle cutting jig comes in handy. Essentially you will roll the bottle in the jig creating a scoreline.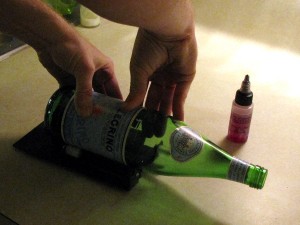 Step 3: Apply heat
Once you've made a scoreline, position the bottle on a Lazy Susan and apply heat using a small butane torch. Set the torch slightly above the scoreline and rotate the Lazy Susan with your free hand. You will hear click and pops as the glass literally breaks. Go slow, be patient and be careful. You should be wearing your safety goggles at this point.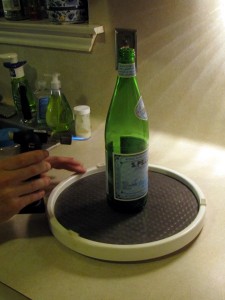 Step 4: Polish the edge
Now that you've cut the bottle, you'll want to polish the edge. This is called lapping. Drop a pinch of grit on a piece of glass or even a mirror and lightly wet it using a spray bottle. Then, with the bottom of the bottle facing up, make a figure-eight motion in the grit. This can be sensitive to the ears, like nails on a chalkboard, so you may want to wear have earplugs or play loud, heavy metal music.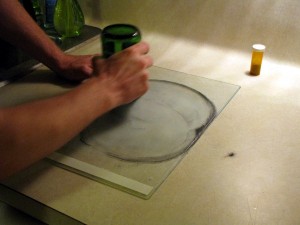 Step 5: Round over the corners
Finally, it's time to round the corners. This is done simply by rubbing your silicon carbide sandpaper along the edges. Do this gently and carefully, until you can smoothly run your fingers around the edge.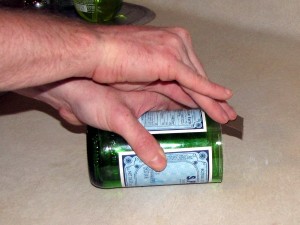 The tools that are involved are an investment, but once you get the hang of it I'm sure you'll think of lots of uses to up-cycle all those old bottles into beautiful new creations.
A special thanks to Make Magazine & Apartment Therapy for the detailed how to guide.