Make your Valentine's Day dinner party extra special this year by decorating your tableware with edible paint & glitter. It's super easy, completely edible and eco-friendly. All you need are a few ingredients that you most likely have in the pantry and some plain jane dishes to dress up.
Let's get started…
DIY Edible Sugar Glitter
Mix 2 tablespoons of sugar and a few drops of liquid food coloring until the color is evenly distributed. (You can also substitute salt for sugar, however the grains of salt give off less sparkle than the sugar.)


Line a baking tray with aluminium foil. Pour the colored sugar onto the baking tray and spread the sugar thinly and evenly on the tray. Preheat your oven to 300ºF. Place the baking tray with sugar in the oven and bake for 10 to 12 minutes.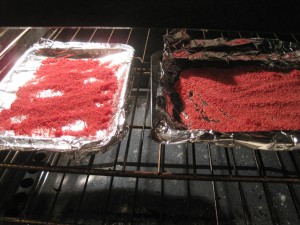 Remove tray from oven and let the sugar cool completely. Use a fork to break up clumps of sugar that may have formed.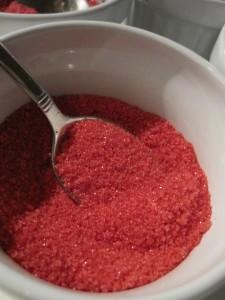 DIY Edible Paint
Mix 3 tablespoons of powdered sugar, 1 teaspoon of water, and 2 drops of liquid food coloring.


Apply with a paintbrush to plain dishes, mugs or even glassware.


Sprinkle your homemade suger glitter on the paint while it is still wet to add a little extra sparkle and shine to every dish.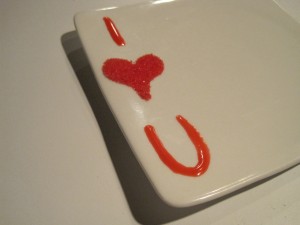 And when it's time to clean up, just wash your dishes like normal. The paint and glitter will just melt off in hot water.
Have fun! Get creative! The sky's the limit to color scheme & design.