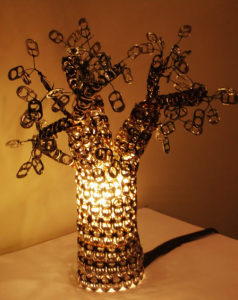 I just love this super funky lamp made out of recycled soda pop can tabs by Tasha Duckman over at Craftster.
Tasha created this tree lamp for a class project. She started by weaving her tabs together with ribbon first, then she used wire to mold and keep the desired tree shape. She then finished it up with wiring and a CFL bulb.
Tasha's whimsical tree is just so creative and really demonstrates that one person's trash is really another person's treasure.