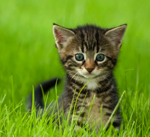 Not sure how to reuse those odds & ends around the house? How about turning them into fun toys for your feline friend.
Here are 5 ways to reuse everyday household items and turn them into cat toys.
1- Turn an old sock & some string into a mouse. Simply cut the sock in half, sew it up in a mouse shape, and leave a small opening. Stuff the half of sock you cut off into the other half that has been sewn, and attach the string tail with a few more stitches, and voila…you got a sock mouse.
2- Old shoelaces – especially the rawhide ones – make for hours of kitty fun. You can also tie them to a plastic wiffle ball and tie the other end to a doorknob, if you're lazy.
3- If you buy milk with a plastic cap, remove the circle of plastic that attaches the cap to the bottle, toss it onto the floor, and watch your cats explode with happiness. (It's the cheapest toys that provide the most entertainment value…)
4- If that throw rug gets old and ratty, or you get your carpets replaced, cut up some scraps and staple them with a staple gun to an old wooden board & Bingo you got an instant scratching post.
5- An old box or paper bag can be a great hideout for all kitty cats.